Barcelona attack anniversary: "We do not understand what integration really means"
Comments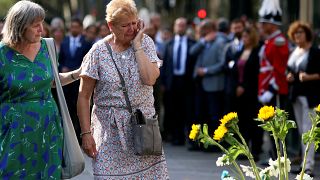 Mohamed Hychami's employer praised his good work in a report. His brother Omar was well-mannered and a good worker according to his colleagues. Said Aallaa was described as "enchanting" by people who knew him in the neighbourhood, Moussa Oukabir liked to listen to rap and played football at a local club. Houssaine Abouyaaqoub worked hard at a kebab shop while his brother Younes was known to be a quiet boy.
However, all changed on August 17, 2017, when Younes Abouyaaqoub drove a rented van into pedestrians on Las Ramblas at the heart of Barcelona, killing 14 people.
A couple hours later, the other five young men drove a car into pedestrians in the coastal town of Cambrils, killing one woman. Four of the five were shot dead by police at the scene. A fifth escaped but was later shot dead.
So why did these six young men with presumably "normal" lives decide to carry out such  deadly attacks?
Euronews spoke to experts who argue the social integration process is far more complex than what it looks like.
"The terrorist stereotype does not exist"
"There's no [terrorist] stereotype," said Mohamed Sifaoui, an expert in French-Algerian terrorism. "What we see in Spain are young people born there who are radicalised by others in their local communities or young Moroccan boys who at their arrival in Spain are manipulated and radicalised by people close to them."
Different levels of integration
For Moussa Bourekba, an analyst at the Barcelona Centre for International Affairs (CIDOB), the notion of social integration conceived by Spanish society is the "wrong one".
Bourekba explained that there are different layers of integration.
The first one is legal as it has to do with having a residence. The second one is economic: going to school and having a job. The third layer — which Bourekba believes most people forget — is "the person's own perception of their integration," whether "they feel like a part of society or not."
"We do not understand what integration really means"
Sifaoui believes that there's a problem with how people define assimilation.
"We're integrated into a society when we've assimilated its values," he said. "We are not integrated simply because we have a job, we have housing and wear jeans."
To understand why the five young men who carried out the Barcelona attacks got radicalised, Sifaoui says other Moroccan youth should be asked the following questions: Do you really feel Catalan? And do other people make you feel Catalan?
"The radicalisation process requires the person to be predisposed to break bonds with society," said Sifaoui.
Former imam Abdelbaki Es Satty took advantage of this feeling of alienation to indoctrinate the young men whom their local community considered integrated, he added.
But despite the lack of real assimilation of these Moroccan men other questions rose after the attacks. Why didn't authorities suspect Es Satty more? How did the group turn a house in Alcantar into a bomb factory without getting noticed? And why didn't the explosion there raise any alarms?
Communication mistakes before and after the attacks.
Sifaoui told Euronews that the lack of coordination between the National Police, the Civil Guard, and the Mossos d'Esquadra — the Catalan police force — occurred due to "internal political problems" and "the independentist context" at that moment.
But after the incident, Spain adopted further security measures to better prepare for future attacks — such as carrying out more elaborate intelligence investigations.
However, it is undeniable the terrorist menace continues to be highly present, with a level 4 or 5 — the highest rank — on the alert scale, said the expert.