WATCH: UK terror suspect named as calls intensify for a no-car zone around London's parliament.
Comments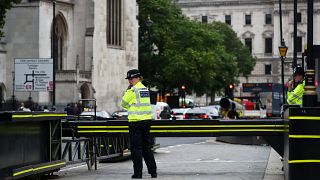 UK police are continuing the questioning of a man in connection with Tuesday's suspected terror attack.
"It's very much a success story for the security which is in place at the moment…"

Counter Terrorism Expert
The man, named as 29-year old Salih Khater from Birmingham, was arrested after his car swerved into pedestrians and cyclists and crashed into security barriers outside the Houses of Parliament.
There were no life-threatening injuries but there have been calls to turn the area into a pedestrianised zone to avoid future vehicle attacks.
Good Morning Europe spoke to Chris Phillips, a counter terrorism expert, who has represented the UK government abroad and who has trained both police and military personnel. Mr. Phillips also spent 30 years working as a police officer in London's Metropolitan Police Force.
Drawing on years of experience, Mr. Philips told the programme that despite this not being an obvious terror hit, UK police must still make sure that nobody else was involved. He emphasised that it is as of yet unknown whether the man, who has now been named as the lead suspect in this investigation, was part of a wider plot to attack London's parliament buildings.
"They [the police] will be looking at his history, what his actions were and what his role was in the run up to this attack." he said. "Terrorism is one of those offences which is all about the mind-set – what he intended to do and why he intended to do it."
When asked whether or not security services in London could consider the response to this incident a 'success story', given that the security barriers stopped the car as intended, Mr. Phillips said: "It's very much a success story for the security which is in place at the moment…The whole point of it is to try and keep vehicles and in particular vehicle bombs away from your key sights."
Government authorities have intensified their calls for a no-vehicle zone around the Westminster area since Tuesday's attack, with Police Commissioner Cressida Dick saying yesterday that it is a matter which will be discussed further.
"Parliament square, ideally, if there were no vehicles there then the threat of terrorism and particularly vehicle bombs and vehicle attacks then diminishes to such an extent that you can then almost take away the barriers that we saw protecting it this week," Mr Phillips said.
Mayor of London, Sadiq Khan said: "We always are adapting, tweaking, tinkering and seeing if there are more things we can do to keep our cities as safe as we can."