Watch: Abnormal Spanish weather causes flamingo births to soar
Comments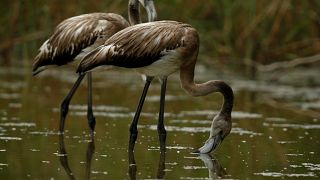 A record number of Spanish flamingos were born this summer due to abundant rainfall and hot temperatures.
A reserve in Fuente de Piedra, a small town in Andalucia, is teeming with thousands of chicks this summer, with wet and humid weather proving ideal for the breeding of the birds.
Around 500 volunteers arrived at the reserve to aid in 'bird ringing,' where the chicks were tagged and checked before being set free. The volunteers also weighed the birds before taking blood samples.
Biologist Araceli Garrido highlighted the importance of the bird ringing process in understanding the ecology of the species, with over 600 chicks tagged this year thanks to the volunteers and researchers.
"Thanks to the bird ring we know that (flamingos) are very long-lived birds. There are even some in freedom of more than 40 years old who are still successfully breeding. They make pairs, they lay an egg, the two of them incubate it, and they both breed the chick. As I always say, the flamingos invented family co-operation many years ago," she said.
The Fuente de Piedra natural reserve is among the top five flamingo breeding grounds in the world. This year also marks the 35th anniversary since the 13 square kilometre lagoon reserve was included in the Ramsar convention which lists the most important lagoons worldwide.