UK cinemas to roll out 270-degree screens in theatres
Comments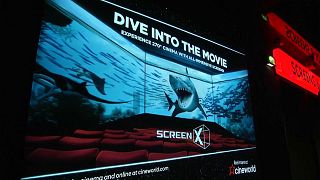 Copyright

Associated Press
They've tried 3D glasses, IMAX and 4DX, and now the UK cinema industry wants to introduce "multi-projection cinema technology" to shake-up the movie experience.
Three years after its launch in South Korea, Cinema chain Cineworld are only now rolling out the innovation, which expands viewers' field of view, to 100 theatres across the UK and will debut it at London's O2 entertainment complex, formerly the Millennium Dome.
"ScreenX is a multi-projection theatre system which gives the viewer a 270-degree viewing experience," says Operations Director Kelly Drew. "It works by using multi-projectors to extend from the main screen, out on the side walls. The walls themselves have special fabric, which allows the brightness and the colour on the side walls to closely match what you see on screen in front of you. And then we have strategically-placed speakers, which are giving us optimum sound and therefore the greatest viewing experience."
Much like how 4DX uses physical effects, such as seat motion, light and smells to immerse cinema-goers, Drew says ScreenX's enveloping screens would intensify the viewing experience.
"So, if you're in a car scene and the car's going round the corner, you're going to feel like you're slightly moving within the car," she says. "The imagery around the side of you is going to make you really feel like you're there in the heart of the action. It's a fantastic feeling."
A handful of summer blockbusters released this year can be watched on the new system, which was invented by Korean company CJ 4DPLEX. Those big screen titles include Marvel Studios' Ant-Man and The Wasp and shark attack thriller The Meg. But as film crews require special camera setups to record the wide-angle footage needed for ScreenX projections, future take-up is likely to remain slow.
"Cinema offers experiences that you can't get in the home. And that's sort of the point of these new technologies like ScreenX and 4DX, they're offering something unique," says film journalist Robert Mitchell, who insists the technology will be a game changer.
"And so, for the right films, that will bring people in. More and more, as the studios focus on blockbuster films, those are the films that lend themselves to this sort of technology."
Once installed, Cineworld's ScreenX-fitted cinemas will join 150 others around the world, including 84 in South Korea and four in the United States.