Man held in London car attack is U.K. national originally from Sudan
Comments
By Phil Helsel and Associated Press with NBC News World News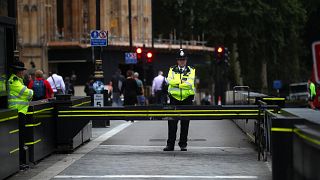 -
The man who is suspected of intentionally ramming a vehicle into pedestrians and cyclists outside Britain's Houses of Parliament on Tuesday has been identified as a U.K. national originally from Sudan, and has been additionally arrested on attempted murder, police said.
But London's Metropolitan Police Service did not name the 29-year-old suspect, who was arrested at the scene of the 7:37 a.m. incident in which a Ford Fiesta crashed into pedestrians and cyclists before striking barriers.
No one was killed. Two people who suffered non-life threatening injuries were taken to a hospital, and another person was treated at the scene, officials have said.
The two people taken to the hospital, a man and a woman, have been treated and released, police said in Wednesday's statement.
Police said they are treating the incident as an act of terrorism. Reuters, citing a European security source, named the suspect as Salih Khater from Birmingham. In their official statement, police said they had searched three addresses in Birmingham, and one in Nottingham.
Police said in the statement that "given that it appears to have been a deliberate act, the method used and the iconic location, it is being treated as a terrorist incident and the investigation is being led by officers from the Met's Counter Terrorism Command."
"The priority of the investigation team continues to be to understand the motivation behind this incident," police said.
Police said the man was arrested on suspicion of the commission, preparation and instigation of acts of terrorism, and that he was subsequently further arrested for attempted murder. From the police statement, it is unclear when the suspect came to the U.K.
At the time of the arrest there was no one else in the vehicle and no weapons were found, police said.
Ahmed Abdi, a neighbor of Khater in Birmingham, said he recognized him from news footage, "and I was shocked."
"He was very, very quiet and he never spoke to anybody. He would say nothing to nobody," Abdi said, according to the Associated Press.
Coventry University, which is just outside Birmingham, confirmed that Khater studied accountancy there from September of 2017 until May of this year, but as of May he was no longer enrolled at the school.
The Metropolitan Police Service said that the Fiesta was driven from Birmingham to London late on Monday night, arriving just after midnight, and that it was driven around Westminster at around 6 a.m. on Tuesday morning and stayed in the area until it crashed into pedestrians and cyclists.
Several eyewitnesses have said they saw the car plow into a group of 10 or 15 cyclists waiting at a red light.
The apparent terror attack comes a year after a man drove his car across Westminster Bridge, struck pedestrians and then stabbed a police officer to death. Five people died, including the officer, and more than 50 were injured. The attacker was shot dead.
The attack, as well as several similar ones across Europe, resulted in more security barriers being erected across the British capital to try to stop vehicle-based attacks.