Paris' eco-friendly public urinals disgust locals
Comments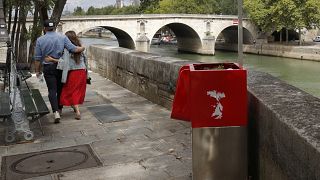 -
Parisians have expressed their disgust at a new set of exposed pubic urinals on the streets of the French capital.
The bright red, eco-friendly, public toilet boxes contain an opening in the front and a floral display on top with straw, which in turn fertilisers the flowers. The project's designer has called them an "eco solution to public peeing".
Locals on Ile Saint-Louis are planning a petition against an installation which is located near Notre Dame Cathedral. This stall, in particular, overlooks tourist boats passing along the Seine and has led residents to write letters to the town hall demanding its removal.
"There's no need to put something so immodest and ugly in such a historic spot," said Paola Pellizzari, 68, owner of a Venetian art store.
This urinal is located next to one of the islands most beautiful townhouses, the Hotel de Lauzun, where the 19th-century French poet Charles Baudelaire lived.
The public "Uritrottoir" - a combination of the French words for urinal and pavement, have also stirred up concerns of discrimination, as it is only suitable for male use.
"They have been installed on a sexist proposition: men cannot control themselves (from the bladder point of view) and so all of society has to adapt", said Gwendoline Coipeault of French feminist group Femmes Solidaires "It's absurd, no one needs to urinate in the street."
However, Ariel Weil mayor of Paris's 4th arrondissement has insisted the devices are necessary for locations where public peeing has been a problem. Paris authorities have already mounted four of the stand-up toilet boxes and a fifth urinal is being planned.