Car crashes into barrier outside Britain's Parliament; pedestrians hurt
Comments
By Alastair Jamieson with NBC News World News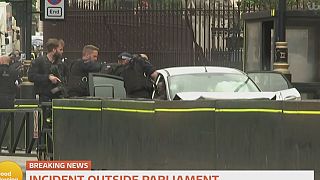 -
LONDON — Dozens of police officers swooped on a car that crashed into security barriers outside the Houses of Parliament in London during the morning rush hour Tuesday. Police said "a number of pedestrians" were hurt.
The male driver was arrested at the scene.
Steam was seen rising from the engine of silver sedan after it hit the protective blocks that surround the building.
Live television pictures showed officers surrounding the wrecked vehicle and pointing their guns through the driver's side window. The crash occurred at 7:37 a.m. local time (2:37 a.m. ET).
The incident happened at the same location as the March 2017 terror attack that killed five people.
This is a breaking news story. Please check back for updates.