Watch: Tornadoes spotted off French and Spanish coasts
Comments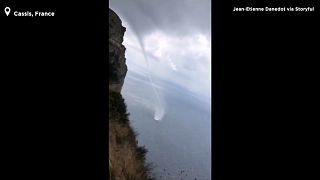 Waterspouts have been spotted off the coasts of France and Spain in recent days.
Onlookers captured a tornado forming off the coast of Cassis in the south of France last week, before thunderstorms hit the region. 
Another small waterspout was seen rocking docked boats off the coast of the Balearic island of Espalmador.
Southern Europe has been hit by numerous storms this summer, which caused flash flooding and led to the evacuation of over 180 people in southern France, mostly from a summer camp.
The unusually wet weather in France and Spain followed several weeks of a prolonged heatwave throughout Europe. 
Soaring temperatures facilitated wildfires in Greece in July, where over 90 people lost their lives.