Watch: Panic as 300 injured in Vigo platform collapse
Comments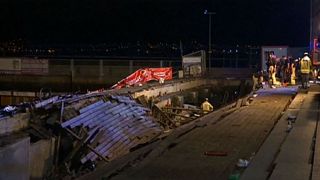 Over 300 people were injured, five seriously, when a section of a wooden platform collapsed at "O Marisquiño" festival of sport and urban culture in Vigo, northwestern Spain.
The accident, which occurred Sunday evening, saw two minors among those injured, local authorities told EFE.
The Galician government said that over 30 ambulances were deployed along with the Red Cross and two health teams from the Continuing Care Point (PAC), along with other emergency services.
Vigo's mayor Abel Caballero said the platform, which collapsed just before midnight, was 30 metres long and 10 metres wide.
"There were loads, I mean loads of people" on the boardwalk, one witness told RTVE.
The festival announced on its official Twitter account that those worried about missing family members could go to a help and information post at Plaza de la Estrella.
Caballero said the cause of the accident "was yet to be determined".
He added that as the platform was located at the edge of the water, authorities deployed divers and a thermal camera for fear of someone being stuck underneath. "Fortunately, there was nobody," the mayor said.