North and South Korea leaders to meet in Pyongyang
Comments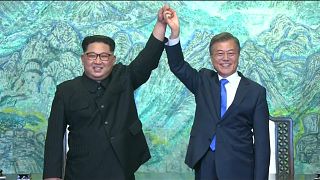 North and South Korea to have agreed to hold a third summit in Pyongyang in September.
The two sides held historic meetings in April and May, at the border truce village of Panmunjom, within the demilitarised zone (DMZ) that separates the two countries.
A fresh round of talks was held on Monday at the DMZ to discuss the third summit, led by the South's Unification Minister Cho Myoung-gyon and Ri Son Gwon, chairman of the North's reunification committee.
Ri said both sides agreed on specific details, including the date for the summit, but declined to elaborate.
However, he said it was important to clear "obstacles" that prevent inter-Korean relations from moving forward as planned.
South Korean officials said the Pyongyang summit would help improve cross-border ties.
The two leaders will discuss the North's denuclearisation and how to establish peace on the Korean peninsula.
The meeting comes amid renewed tensions surrounding a nuclear standoff between Washington and Pyongyang.