Watch: Protesters' panic as tear gas is fired during anti-government rally in Bucharest
Comments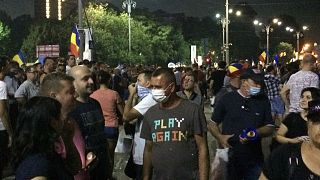 Footage has emerged of protesters fleeing in panic after tear gas was fired during an anti-government protest in Romania.
There were more than 450 people injured after a largely peaceful protest on Friday turned violent in places.
Cristian Gherasim, reporting for Euronews from the Romanian capital, said the level of violence was 'unprecedented'.
Some protesters attempted to force their way through security lines guarding the government building and others threw bottles and rocks at riot police, according to news agency Reuters.
As the protest continued well into the night, riot police used a water cannon and increasingly sprayed tear gas into the crowd.
Romanian President Klaus Iohannis, an opponent of the ruling Social Democrat Party (PSD), condemned the police's disproportionate use of force.
"I firmly condemn riot police's brutal intervention, strongly disproportionate to the actions of the majority of people in the square," he said on his Facebook page.
"The interior ministry must explain urgently the way it handled tonight's events."
The protest was the latest in a series of demonstrations over PSD's alleged weakening of the judiciary and moves to decriminalise some low-level corruption offences.