Indonesia is hit by third quake in two weeks as death toll rises
Comments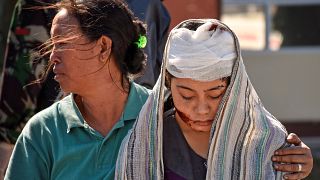 Indonesia has been rocked anew by an earthquake with a magnitude of 5.9, according to the United States Geological Survey.
The aftershock follows a series of quakes which have hit Indonesia over the past two weeks. The most powerful one struck on Sunday in the northern region of Lombok with a magnitude of 7.0 which has left tens of thousands homeless and 227 dead, rescuers told the Associated Press (AP).
A humanitarian crisis looms in Lombok, where thousands are in desperate need of clean water, food, medicine, and shelter.
"People are always saying they need water and tarps," Spokesman Arifin Hadi told the AP about the current rescue efforts.
The Indonesian Red Cross is focusing relief efforts on the northern areas of Lombok where aid has not yet reached.
Ruslan, a 29-year-old resident of Pemenang on the northwestern shoulder of Lombok, said he had already been anxious about aftershocks before the latest jolt.
"My heart jumps if even the door slams hard. It's difficult to get used to," he said.
"We are still scared to go into the house. At the most we go in quickly to grab something and then run back out."
Restaurant and hotel owners, as well as the Association of Indonesian Tours and Travel Agencies, told Reuters that tour cancellations had surged in what is usually one of the busiest months of the year. Tourists had evacuated or left the country themselves following Sunday's quake.
"The short-term impacts are heartbreaking for local communities. Tourism dollars will go a long way in helping the communities rebuild," Matt Gebbie, Asia-Pacific director at tourism consultancy Horwath HTL, told Reuters.
Indonesia sits on the Pacific Ring of Fire and is regularly hit by earthquakes. In 2004, the Indian Ocean tsunami killed 226,000 people in 13 countries, including more than 120,000 in Indonesia.