In pictures: Indonesia's rescue mission after earthquake
Comments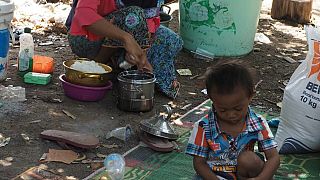 More than 100 people have been confirmed dead after a 6.9 magnitude earthquake hit Indonesia's islands of Lombok and Bali on Sunday.
It was the second tremor to hit the resort island in a week.
Rescuers found victims under wrecked buildings, while thousands were left homeless in the worst-affected areas. Many are still waiting for aid to arrive.
Euronews spoke to the NGO Mercy Corps, who are working on the ground to asses the needs of survivors and the impact of the earthquakes.
Priva Bell, the Indonesia Response Team Coordinator at Mercy Corps, told Euronews: "We already know that many people have lost access to water, and are in need of shelter. Some roads are blocked or difficult to navigate making it challenging to reach all of the communities in need of assistance. The affected areas have no electricity, and hospitals are over capacity."
"The next few days will be crucial as we prepare to help people find shelter, and get the food and water they need to keep going," she added.
There has been little government relief for the area, where the greatest need is for water and food. Underground water sources have been blocked by the quake and shops have been destroyed or abandoned.
The team at Mercy Corps completed assessments of seven remote villages on the island on Monday. The NGO said the most urgent needs were shelter, food, water, sanitation and hygiene support, health care, and trauma support.
It added that in one of the villages, 90% of houses had collapsed.
Bell and her team were in East Lombok when Sunday's earthquake struck.
"Many houses that were still standing when I passed them during the day were flattened after Sunday's earthquake," she said.
She added that following the quake, electricity was out and people screamed in panic. Many slept outside at night as they were afraid to go into their houses.
"Most have built temporary tents in front of their houses with no walls, a thin mattress and thin blanket. So many people are starting to get sick because they have been sleeping outside from the first earthquake incident [on July 29].
"They are afraid and stressed, and it is difficult for them to travel far to find food and water," Bell said.
Good Morning Europe will be speaking to Mercy Corp from 7am CEST on Wednesday.