Watch: Prince William joins commemorations for decisive WW1 battle
Comments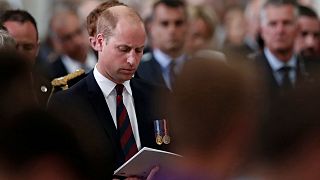 Copyright

FRANCE-REGIONS/ REUTERS/Pascal Rossignol (FRANCE)
British royal Prince William has praised Franco-English collaboration during a ceremony to mark 100 years since a key WWI battle.
The Duke of Cambridge was speaking during commemorations for the Battle of Amiens, a key  offensive on the road to defeating Germany.
"Amiens was symbolic of the entente cordiale, the co-operation without which victory was impossible," said Prince Williams.
"It is entirely fitting therefore, that today, that same international coalition has returned to Amiens with our former enemy, in peace and partnership.
"Today we return to learn more about the experience of those involved during the historic summer of 1918, to honour the fallen of all nations, to commemorate all those who participated in this great endeavour, and to celebrate the bonds of friendship which unite our nations."
Prince William was among 3,000 people at the ceremony in the northern French town of Amiens on Wednesday (August 8).
Several hundred were relatives of those who fought in the battle and had come to pay tribute to the tens of thousands of soldiers who lost their lives.
Watch in full: ceremony to mark anniversary of Battle of Amiens