Venice cafe sparks outrage online with €43 bill for coffee and water
Comments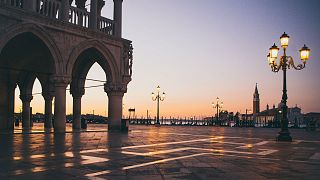 A cafe in Venice's famous St Mark's Square has sparked outrage online after a picture shared by a disgruntled customer of his €43 bill for two coffees and two bottles of water went viral.
Juan Carlos Bustamante, a Chilean politician based in Italy, shared a photograph of his receipt from Caffe Lavena on Facebook last week.
"I don't know what you think but 43 euros for two coffees and two bottles of water!" he wrote in a post accompanying the photo.
The image shows that he was charged €20 for two bottles of water and €23 for two espressos.
The post has since been shared almost 10,000 times, with many social media users expressing outrage at the high prices.
When contacted by Euronews, a member of staff at Caffee Lavina said the bill was normal and blamed Bustamante for not finding out the price beforehand.
"Did he see the menu first? Like usual, like everyone else in the world," he said.
The cafe has also noted that prices are dramatically higher for customers who want to sit in the square, where live orchestras perform, noting that a coffee at the bar costs just €1.25.
Several reviewers on TripAdvisor shared Bustamante's shock at the cafe's high prices, with one complaining of spending €78 on coffee and water for a family of five, while another was disgruntled over an €18 bottle of beer.
However, others said the prices at the cafe — which has an overall rating of three-and-a-half stars out of five — were worth it.
"The prices are certainly high and I paid it gladly," one wrote. "Other reviewers have carped that this restaurant is expensive.........of course it is!!! It is situated in possibly the best position in the world," another said.
The case is just the latest report of tourists complaining of expensive restaurant bills in Venice.
The city's mayor pledged action in January after a group of Japanese tourists claimed a restaurant presented them with a bill of €1,100 for four steaks, a plate of fried fish and water.
Months earlier, a British tourist complained to the mayor after he and his parents were charged €526 for their lunch.