Pensioner embarks on road trip from Brisbane to Frankfurt
Comments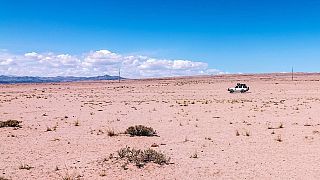 Rudiger Buchholz worked in the office of Lufthansa Cargo for 34 years. At the end of January, he retired at the age of 65 with a rather crazy plan. He wanted to bring a Landcruiser, which his son had bought during his work-and-travel stay in Australia, to Germany — all by himself.
Buchholz's 22-year-old son had long been back in Germany when he took the off-road vehicle out of the Brisbane garage and started his road trip.
"I thought that after four weeks everyone would annoy me if I am with them 24 hours a day," he told Euronews.
The long journey from Australia to Germany with a Landcruiser requires a lot of preparation. 
Originally, Buchholz wanted to ship the car from Australia to Singapore and then drive through Southeast Asia, but one expert said that despite a valid visa, it is often difficult to enter Myanmar by car, and Pakistan needs police protection.
Buchholz therefore decided to have it transported in a container ship from Australia to Vladivostok in Russia: "It takes about 3 weeks and you are not allowed to ride as a 'normal person'. So in the meantime I explored the South Seas a bit and then flew up to Vladivostok."
The journey continued in the Landcruiser through Russia and Mongolia. At present, the adventurer is in Kyrgyzstan. And so far, Buchholz is very satisfied with his road trip.
"[Driving] takes a bit longer and it's a bit more expensive, but basically it works quite well.
"I don't miss home. There are so many great things to see and discover everywhere and you meet great people everywhere," he said.
Buchholz believes he will arrive in Frankfurt in December. If he has enough time, the adventurous traveller wants to visit the Acropolis in Athens, because he dreamed about it as a teenager.
Buchholz reports on his journey on his blog, on Facebook and on Instagram.