Nicolas Maduro 'survived assassination attempt involving exploding drones'
Comments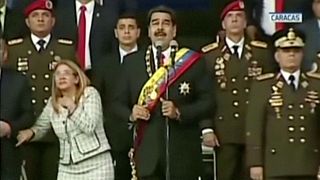 Venezuela's president Nicolas Maduro has claimed he survived an assassination attempt involving exploding drones.
Footage shows Maduro gaze upwards and looked startled during a speech as others sharing his podium flinched.
The audio of the address, which was broadcast by Venezuelan state television from the capital Caracas, is then suddenly cut.
Venezuela's government said that six people had been detained over drone explosions at the event as his political opposition warned of a possible crackdown after he accused his adversaries of seeking to assassinate him.
Leftist Maduro, who replaced President Hugo Chavez after his death in 2013, has linked the attack to Colombia and the U.S.
"And I have no doubt that everything points to the right, to the Venezuelan ultra-right, in alliance with the Colombian ultra-right, and that the name of Juan Manuel Santos is behind this attack," said Maduro in a television address to the nation.
Colombia has called Maduro's allegation "absurd."
A little-known group called the National Movement of Soldiers in T-shirts claimed responsibility for the attack. In a series of posts on social media, the group said it had planned to fly two drones but that snipers shot them down.
But three firefighters at the scene, speaking to Associated Press on the condition of anonymity, said the explosion had come from a gas tank in a nearby apartment block.
Venezuela, once a thriving socialist economy, has collapsed since the 2014 fall of oil prices.
Maduro has claimed he is battling an imperialist plot to destroy socialism and take over Venezuela's oil revenues.
Critics say he has destroyed the economy and ruthlessly crushed dissent.