How a heatwave helped uncover a piece of Irish history
Comments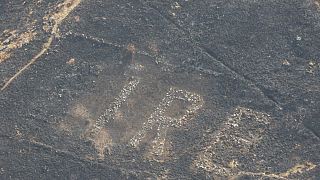 A wildfire on the coast of eastern Ireland killed off some vegetation but also resurrected a World War II relic.
The gorse blaze uncovered a sign that was carved into headlands as a navigational aid for German and Allied pilots.
It reads 'Eire' — the Irish language word for Ireland — and was intended to tell aircrew they were flying over a neutral country.
The newly-revealed carving was discovered by an air support crew of the Garda, Ireland's national police force.
It published pictures via its Twitter feed on Saturday (August 4) while a media company also released aerial footage.
While the signs are common on the west coast of Ireland this one at Bray Head, County Wicklow had been hidden for years under thick undergrowth.
There were around 85 such carvings around the coast, according to EireMarkings.org and they doubled-up as look-out posts that were manned 24 hours a day to guard against invasion.