Greece replaces emergency chiefs over deadly wildfires
Comments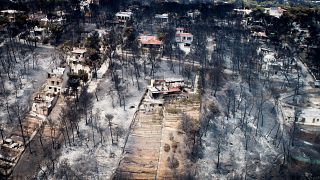 Greece has appointed two new heads of key emergency services over the recent deadly wildfires near Athens.
The government has been heavily criticised over its response to the blazes, which killed at least 90 people.
The civil protection minister resigned on Friday.
A statement from the prime minister's office on Sunday said that the heads of the police force and fire brigade had been replaced by their deputies.
The flames spread through the Attica Peninsula, fanned by strong winds. The tourist town of Mati was among the worst-affected areas.
Eyewitnesses said that hundreds of people were forced into the sea as the fires approached, while others were trapped by the flames.
The government has said the fires were started by arsonists and blamed illegal construction for blocking escape routes.