Turkey retaliates over US sanctions
Comments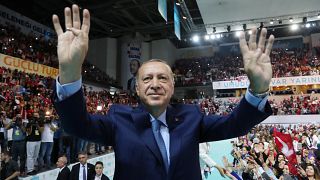 Turkey's President has hit back at the United States after Washington imposed sanctions on two Turkish ministers over the detention of a US clergyman accused of supporting terrorism.
Speaking to the women's wing of his AK Party, Recep Tayyip Erdogan said the sanctions were a disrespectful way to treat a strategic partner.
''Today I am ordering that Turkey also freeze all assets in Turkey of the US justice and interior ministers, if they have any,'' Erdogan said. ''Turkey cannot be punished with such actions."
Pastor Andrew Brunson has been held for nearly two years over alleged links to Erdogan's political rivals.
The case has been followed closely by America's evangelical Christian community, a key part of President Trump's support base.
It has also heightened tensions between the two NATO allies, with some Turkish newspapers calling on Erdogan to shut the US military base in the country.
The sanctions have led to a sell-off in the Turkish currency, reflecting deepening investor concern over the worsening relations with a major trading partner.