Investigators probe police shooting of 'disabled man with toy gun'
Comments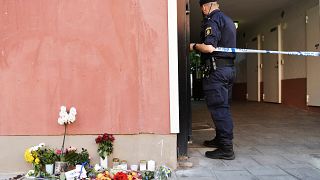 A probe is continuing into the behaviour of police in Sweden after a man with Down syndrome was shot in Stockholm.
Erik Torell, 20, was carrying a toy gun when he was fatally fired upon on Thursday (August 4), report local media.
Katarina Söderberg told Expressen that her son, who had been reported missing after running away from home, "wouldn't hurt a fly".
Stockholm regional police chief, Ulf Johansson, said that it was a tragic event but that "very difficult decisions in unclear and crowded situations need to be taken in a few seconds".
The Swedish Prosecution Authority said it had opened an investigation into whether a crime had been committed.
"The man had a weapon-like object and when the police perceived the situation as threatening, they opened fire," the authority said in a statement. "The man later died of his injuries."
Chief Prosecutor Martin Tidén said the item Erik was carrying was not a weapon and that more than one police officer had opened fire.
"This is a very tragic event and I have every understanding that many people want to get answers quickly, but it is important that we have the opportunity to carry out the investigation methodically and thoroughly in the usual way," he added. "I currently have no idea how long the investigation will take or what it will lead to."