Turkey vows to retaliate over US sanctions
Comments
By Reuters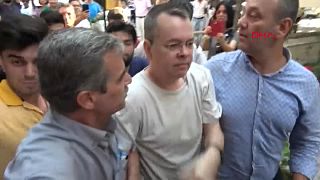 Turkey has vowed to retaliate against US sanctions imposed on two of President Tayyip Erdogan's ministers over the trial of a US pastor accused of backing terrorism.
The lira dropped to its wakest ever level on Thursday, to a record low of $5.09 before recovering to around $5.05, according to Bloomberg.
The sanctions also led to a sell-off in the Turkish currency, reflecting deepening investor concern over tensions with the United States, which is a NATO ally and major trading partner.
Relations between the US and Turkey ally have plummeted over the arrest and detention of Andrew Brunson, who has been charged with supporting the group Ankara says was behind an attempted coup in 2016.
Turkey's Foreign Ministry demanded the US "walk back from this wrong decision''.
However, the case has resonated with the evangelical Christian community in the US.
White House Press Secretary Sarah Huckabee Sanders said: ''The President has been closely following the ongoing situation in Turkey involving Pastor Andrew Brunson. We've seen no evidence that Pastor Brunson has done anything wrong and we believe he is a victim of unfair and unjust attention by the government of Turkey."
Brunson stands accused of helping supporters of Fethullah Gulen, the US-based cleric who Turkish authorities say masterminded the coup attempt.
Turkey has been trying for two years to have Gulen extradited from the US.