New footage captures dramatic air crash
Comments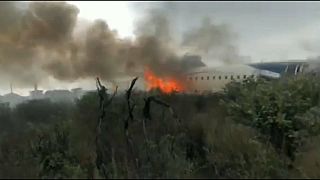 Dramatic new footage has emerged of the plane crash in Mexico on Tuesday.
The images, captured by one of the passengers after they escaped from the Aeromexico flight, shows the plane on fire as the travellers attempt to make their way from the immediate area.
All 103 passengers managed to escape with their lives, a total which includes 99 passengers and four crew members.
Many are currently receieving treatment in hospital.
The footage joins mobile phone images taken within the plane showing it struggling to take off during a hail storm.
Aero Mexico Flight 2431 came to a stop less than 300 metres from the runway of General Guadalupe Victoria International Airport in Durango.