Watch: Aeroméxico plane crashes moments after take-off
Comments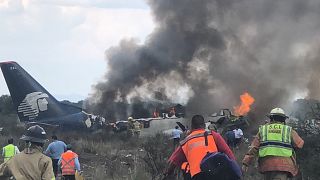 An Aeroméxico plane crashed just moments after takeoff on Wednesday in the capital of Mexico's Durango state.
All 103 passengers and the crew survived but 97 people were injured.
Ramin Parsa, 32, a pastor from Los Angeles who was aboard the plane when it crashed, spoke to NBC journalist Ali Gostanian.
"The weather was so bad we should not have taken off," he said. "The lights went off and the plane was pitch black. There was smoke and we couldn't breathe. We couldn't see out the windows. The flames were so high.
"Everyone on the plane was screaming. I began to pray and pray. I was trying to break the window but couldn't. They were too tough."
The pastor added: "People were burned, their hands and their feet. It's a miracle we are alive."
State Governor José Rosas Aispuro said the plane had been blown by a gust of wind, causing it to fall suddenly. Two engines broke off after its left wing then touched the ground.
A majority of the passengers walked away from the wreckage before the fire broke out.
Flight AM2431 was travelling between Durango's Guadalupe Victoria International Airport and Mexico City when the crash occurred around 4 pm local time.