Romanian police confiscate Swedish number plate that insulted government
Comments
By Cristian Gherasim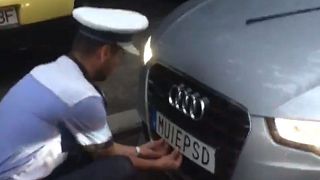 Copyright

Razvan Stefanescu

-
Romanian police have confiscated a Swedish number plate which translates into Romanian as "FUCK PSD".
The plates were widely publicised on social media as an attack on the ruling Social Democrat Party, known by its acronym PSD. However, the car had been previously stopped several times without consequences as the personalised registration was legally issued in Sweden.
The Traffic Police had previously declined to comment to Euronews about the issue and their apparent change of tack prompted a protest in front of their headquarters, as well as criticism on social media.
"A state institution (Romanian Police) obedient to party interests and willing to commit abuses. Shame!", read one of the thousands of angry comments and reviews on the Romania Police Facebook page.
The car belonged to a Romanian living in Sweden, who decided to take advantage of a Swedish law allowing car owners to personalise registration plates with any text or number combination in exchange for a €640 fee.
However, the Romanian police now appear to have decided that while the license plates are valid in their country of issue, they can't be used in another country unless the respective state specifically allows it.
The car's driver Razvan Stefanescu had both his plates confiscated and license suspended, and now has a criminal file for driving a car without legal license plates. He says the police action amounted to harassment.
"On Friday they told me that the number plates are valid, now that they are not. I even called the Swedish Embassy and they told me that I can drive anywhere in Europe. I think this is an abuse. I think I was constantly under surveillance. The previous night there was a police motorcycle driving around my block," he told Romanian media.
The Swedish Embassy to Romania also reacted on Facebook saying that personalized license plates are valid throughout the European Union, subsequently adding that some countries may refuse to accept them.
A spokesperson for the Swedish Agency for Transportation, Eva Isaksen, told Romanian media that the license plates are perfectly legal in the EU, but after being informed about the meaning of the translation by Romanian authorities, they had decided to cancel them in Sweden too.