Greek fire victims face new hurdles
Comments
By Fay Doulgkeri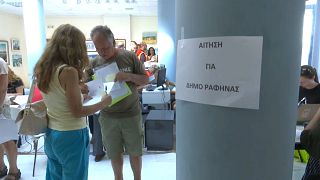 Authorities in Greece on Tuesday began accepting applications for emergency relief benefit from Attica fire victims, with the process reported to be going smoothly thus far.
The one-off benefit is available to people and businesses that sustained damage in the destructive fires in Rafina, Marathon and Kineta on July 23-24.
The one-off benefit amounts to 5,000 euros for residences, 6,000 euros for families with three or more children and 8.000 euros for businesses.
The number of applicants on the first day of accepting applications was relatively small, so people were served quickly.
But many of the people who come for help face one more problem, besides the fire. They don't have their ID cards, as they were burned along with their homes and their belongings.
Applicants must fill in a form with their details and also bring a photocopy of their police ID card or passport, a certificate of their family status for those applying for the 6,000-euro benefit for large families and a copy of the lease or owner's E2 tax form in the case of those renting.
For businesses, in addition to a photocopy of ID documents, applicants must also submit documents indicating that they are legal representatives of the business.