Fundraiser for Polish beggar paid to have Briton's name tattooed on his forehead
Comments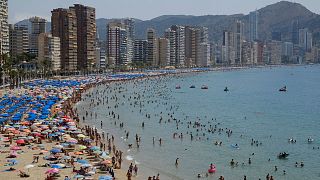 A petition has been launched to help a Polish beggar who was reportedly paid €100 to have the name of a British man tattooed on his head.
It happened in Benidorm when Tomek, 34, was approached by a group partying at the Spanish resort.
A picture later emerged on Facebook of the homeless man with "Jamie Blake, North Shields, NE28" on his forehead.
The case, which has been widely criticised on social media, has prompted a Benidorm-based British woman to try and raise money to help Tomek.
Karen Maling Cowles, from Benidorm's British Businesses Association, is trying to raise €3,000 to have the tattoo removed.
She said Tomek was an alcoholic and had walked to Spain from Poland, according to The Local Spain.
He told her some of the €100 was spent on booze and the rest was stolen as he slept the night on the beach.
It comes after Jamie Blake, the man whose name was tattooed on Tomek's head, spoke to his local newspaper.
Blake, who moved from England to work in Benidorm three months ago, told Chronicle Live the reaction on social media had been a "nightmare".
He had originally planned the event to be a stag-do but it ended up just being a get-together with friends after splitting with his bride-to-be.
You can view the petition, here.