Domino's ends free pizza tattoo campaign early in Russia after too many get inked
Comments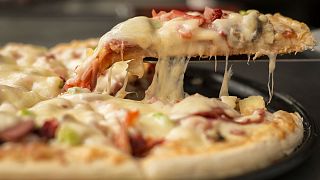 Domino's Pizza in Russia was forced to end a promotional campaign offering fans a lifetime supply of free pizza if they got a tattoo of the company's logo in a "prominent place" after just five days because too many customers rushed to get inked.
The campaign, announced on social media on August 31, offered customers a certificate entitling them to up to 100 free pizzas a year for 100 years if they met the challenge.
Scores of people rushed to share images of their new tattoos using the campaign hashtag, with designs seen on participants' arms, legs and even necks.
With more than 350 people getting inked in five days, Domino's Russia announced that it was closing the campaign early.
"We are not receiving any new tattoos", it wrote in a post shared to Facebook and Instagram alongside a picture of a stop sign.
"If you are at a tattoo artist's and getting tattoos, we will include you in the list of participants. But we are waiting for pictures before 12:00 today."
"For those [getting tattoos] later — we recommend you cancel the appointment because unfortunately, we will not be able to include you."
However, the end of the campaign has not deterred some pizza fans, with pictures of Domino's tattoos under the campaign hashtag still being shared on Saturday.
In total, 381 people took part in the campaign, Domino's Russia told Euronews.
"From now on we don't receive any new applications," it said.