Cooling off? Swedes turn flooded station into swimming pool
Comments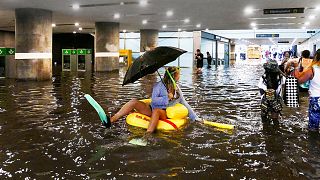 Copyright

Instagram/sarah.thoren
Fun-loving Swedes turned a flooded train station in Uppsala, a city near Stockholm, into a makeshift swimming pool.
They jokingly brought inflatables and swimming fins to make the most of the water.
"I visited my parents for a Swedish 'fika' [coffee] and my father showed me [an Instagram photo] from the rail station ... so we thought it was a fun thing to do," said participant Sarah Thorén, a resident of Uppsala.
The flooding comes after Sweden was hit by northern Europe's heatwave that has seen an outbreak of wildfires reaching as far up as the Arctic Circle.
Uppsala's central railway station — in the part that leads to the city centre — flooded up to knee height.
The water was pumped out on Sunday night, The Local Sweden reported.