Imran Khan begins coalition search
Comments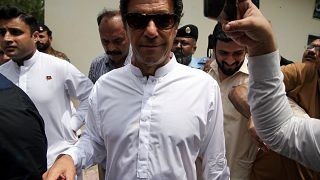 Imran Khan will look to build a ruling coalition in Pakistan from a strong position, after long awaited final results from Wednesday's general election left him just 21 seats short of an outright majority.
But his opponents are hardening their tone. A coalition around Maulana Fazal-Ur-Rehman is calling for fresh elections saying the vote was rigged.
A mission of EU observers has not backed those allegations, though it did say the poll was unfairly weighted towards the larger parties.
Chief Observer Michael Gahler said: "Although there were several legal provisions aimed at ensuring a level playing field, we have concluded that there was a lack of equality of opportunity. Candidates with large political appeal and financial means, the so called 'electables', often dominated the campaign. And uneven rules on campaign spending further undermined equal opportunity for candidates."
Khan is likely to need a multi-party coalition with religious parties and independents to form a government.