Europe's populists head to Cambodia to observe controversial vote
Comments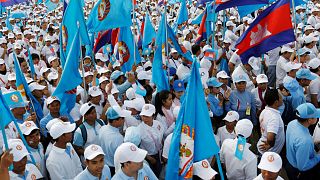 European politicians from populist and far-right parties are among those to have headed to Cambodia to serve as monitors for its controversial national election on Sunday.
The European Union suspended funding for the election after the government of Cambodian Prime Minister Hun Sen dissolved the main opposition party, and has not sent any observers to the vote.
But observers with ties to the UK Independence Party (UKIP), Italy's Fratelli d'Italia and the neo-fascist Tricolour Flame, and the Freedom Party of Austria are among those who have showed up.
"We're here for the people, to do this for the people," Richard Wood, who stood for parliament in 2015 for UKIP, told AFP.
Luca Romagnoli, a member of the populist right-wing Fratelli d'Italia and a former MP in the European Parliament, said he was observing in a "casual" way and not as a representative of his party..
In total, some 538 foreign observers are monitoring the Cambodian vote, alongside thousands of domestic monitors — many of whom have links to the ruling Cambodian People's Party.
Sunday's vote is expected to be a landslide win for Hun Sen, extending his current 33-year rule.
Leaders of the now-banned opposition Cambodia National Rescue Paty are calling for the vote to be boycotted.
The party's former leader Sam Rainsy, who currently lives in exile in France, on Friday said the vote was "intended to legitimise Hun Sen's killing of democracy".
"With no real challenger Hun Sen's victory is a hollow and laughable one", he wrote on Twitter.