Islamist group says it attacked Mali luxury resort
Comments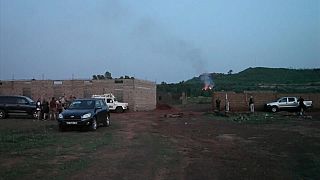 A new alliance of Islamist militant groups linked to al Qaeda on Monday has claimed responsibility for an attack on a luxury resort in Mali that killed at least five people on Sunday.
1. The attack that occurred yesterday at a resort in Mali has just been claimed by a well-known battalion of al-Qaeda in the Islamic Maghreb pic.twitter.com/4ezCEr3VNb

— Rukmini Callimachi (@rcallimachi) June 19, 2017
The assailants stormed the hotel, which is popular with expats, and opened fire on the guests. It then held a gunfight with French and Malian special forces who had been deployed to try to free those trapped inside.
Mali's Security Ministry said in a statement late on Monday that four of the dead were guests and one was a local soldier who died in the firefight.
The nationalities of the dead were a French-Malian, a French-Gabonese, a Chinese, a Portuguese and a Malian soldier, the ministry said.
Although the attackers succeeded in mounting a lethal assault, security forces backed by French and United Nations troops managed to rescue around 60 residents in two batches on Sunday night, including 13 French citizens and several children.
"This was without doubt a terrorist attack," Security Minister Salif Traore told RFI on Monday.
His ministry's statement added that authorities had killed four attackers and arrested five others.
Earlier in the day, Traore said some of the militants' accomplices were still at large. Several security forces were still being treated for serious injuries.
French troops and a 10,000-strong U.N. peacekeeping force have been battling to stabilise Mali, a former French colony, ever since France intervened in 2013 to push back jihadists and allied Tuareg rebels who had taken over the country's desert north a year earlier.
The alliance that claimed the attack, Nusrat al-Islam wal Muslimeen, was created earlier this year from a merger of local groups and is led by a notorious Tuareg commander. It was later endorsed by Al Qaeda in the Islamic Maghreb.
Islamist groups have claimed increasingly frequent attacks on Western targets in Mali and the wider West Africa region, including a raid on a Bamako hotel in late 2015 which killed 20 people.
But analysts said security forces appeared to have responded more quickly this time than in previous such attacks.
French President Emmanuel Macron spoke to the leader of Mali after the attack and pledged his country's full support for the country, Macron's office said on Monday.
"France condemns with utmost firmness this murderous attack," the Foreign Ministry said in a statement.
The African Union condemned the attack and reiterated its commitment to support Mali in combating terrorism.
Earlier this month, the United States warned its citizens about a possible increased threat of attacks against places popular with Westerners.