Rome: Bees used as pollution monitors
Comments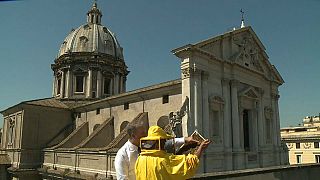 Bees are being used as pollution monitors in Rome.
The tiny insects collect pollen from thousands of plants daily, in quite a tight radius and then their honey and wax are tested for various toxins.
The project's been set up by Italian beekeepers and the carabinieri to understand the air pollution.
Raffaele Cirone, President of the Federation of Italian Beekeepers says, "Bee's in the city live longer; they have many more flowers, nectar, pollen and therefore food at their disposal, compared to the countryside".
They've been used before in urban areas across the world to detect pollutants such as in New York, Tokyo and London.
It means there are possibly more chemicals to be examined from the city than from bees in the countryside where perhaps a bee may go to just one crop.