N.Korea returns remains of U.S. solders killed in Korean War
Comments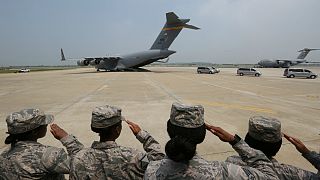 It's taken over sixty years, but the remains of US soldiers killed in the Korean War have finally returned home.
Soldiers in dress uniforms with white gloves were seen slowly carrying 55 small cases covered with the blue-and-white United Nations insignia, placing them one by one into silver vans waiting on the tarmac at the Osan air base in South Korea.
The transfer of the remains coincided with the 65th anniversary of the 1953 armistice agreement that ended fighting between the two Koreas.
Donald Trump took to Twitter to thank the North Korean leader.
More than 7,700 U.S. troops who fought in the Korean War remain unaccounted for, with about 5,300 of those lost in what is now North Korea.