Europe briefing: six stories you need to know about today
Comments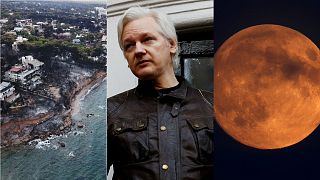 1. Greece fires believed to be caused by arson
Greek authorities say it has "serious indications" that a fire that killed over 80 people on Monday was started deliberately — according to citizen protection minister Nikos Toskas. The blaze broke hit coastal villages popular with tourists, dozens more people are missing.
Read more here
2. Theresa May's EU charm offensive
UK Prime Minister Theresa May is on her way to Austria to talk Brexit with the Austrian Chancellor. She hopes to win support for her proposals for the UK's future relationship with the Eu planned visits across the continent.
But, the EU's chief Brexit negotiator has said the attempts to appeal EU leaders over his head were a waste of time — as he rejected May's proposals on customs post-Brexit on Thursday.
3. Ecuador's President says Julian Assange must leave London Embassy
Ecuador's President Moreno says he has spoken about Julian Assange's situation with the UK government and said Julian Assange must leave the London Embassy.
The WikiLeaks founder has lived in Equador's embassy for the past six years while claiming diplomatic asylum.
Assange sought refuge at Ecuador's embassy in the UK in 2012 after he broke bail connected to sexual assault allegations against him in Sweden. Though the Swedish investigation was dropped in 2017, the UK warrant for his arrest on bail-jumping charges.
4.French economy disappoints as strikes hold back growth
France's GDP grew just 0.2 percent in April-June, missing analyst forecasts of 0.3 percent.
It is said to be down to rail worker strikes and bad weather at the start of the year, which hit consumer spending and trade. Trade tensions are also a worry and remain a big risk, which is hitting confidence.
France is the first Group of Seven countries to print second-quarter figures. The next report comes from the US.
5. The future of Spain's prime minister hangs in the balance over budget revolt
Just hours before a key vote on Spain's budget, political allies of Prime Minister Pedro Sanchez's government withdrew their support.
Sanchez's socialist government controls only 84 seats in the 250-strong parliament, meaning the socialist PSOE party will not be able to pass the budget plan without the support of the parties that backed Sanchez in June.
If the prime minister fails to pass his budget plan, the future of his two-month-old administration could be called into question.
Sanchez ousted the former Prime Minister Mariano Rajoy with the support of the other parties in a confidence vote.
6. The world awaits a 'blood moon'
Skygazers can expect the longest 'blood moon' on Friday. The eclipse will be most visible from Europe, but also the Middle East, Africa, Australia, most of Asia and South America.
Read here for what you need to know
It's called a blood moon, as during the total eclipse, Earth's natural satellite will turn a glorious shade of red.
As-it-happened updates for Friday, July 27
This is how we covered key developments this morning: