French Minister calls for better response from airlines after disabled teenager is thrown off plane
Comments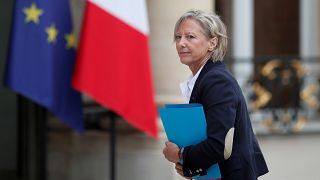 Copyright

REUTERS/Benoit Tessier
France's Secretary of State in charge of People with Disabilities condemned an airlines' inappropriate behaviour after a disabled teenager was thrown off a plane earlier this week.
Sophie Cluzel told Euronews on Friday: "These are serious dysfunctions, they are attacks, it is discriminatory for people with disabilities to not be able to access these flights while the family had taken all precautions."
The minister added that "there is still a lack of training for flight personnel, a lack of communication and the transmission of good information within the companies, and that is what we need to work on."
Eli, the son of Euronews journalist Isabelle Kumar was set to travel with his family from Dubai to France in the final leg of a long journey from New Zealand via Australia when staff asked to see a medical certificate.
"We told Emirates every step of the way that Eli had epilepsy (and autism) but when we asked for a seat with a vacant seat next to it in case he had a seizure they suddenly wanted to see the medical certificate," Kumar explained.
Kumar presented the medical certificate and called the family's doctor in France to confirm Eli could fly but flight attendants refused to speak to the doctor and removed the family from the plane — causing Eli a lot of distress.
Cluzel called on airlines to make it easier for families to travel with a disabled child or adult. She said companies must offer more training and awareness to their staff on how to handle similar situations.
"We don't want airlines just apologising for their mistakes, we want them to give people with disabilities the right to travel like everybody else," she said.
"Don't exclude because they have a disability, treat them like everyone else."
An Emirates spokesperson told Euronews the airline was "very sorry for any distress and inconvenience caused to Ms Kumar and her family."
"Such situations are usually difficult for operational staff to assess, and they opted to act in the best interest of our passengers' safety as well as on advice from our medical team.
"Our customer service team has been in touch with the family, and we have offered them complimentary hotel stay while in transit and rebooked them on another flight departing on 26 July," the spokesperson said.