Fast news: The best from the week in 60 seconds
Comments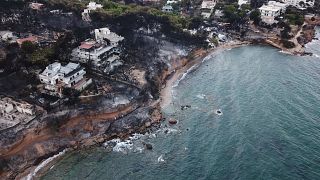 Watch Euronews' Fast News, where the most significant stories of the past few days are packed into 60 seconds.
What has moved the world this week? In Europe, devastating wildfires ravaged areas near Athens in Greece, leaving dozens dead and countless missing.
Four more satellites were launched for the European Galileo navigation system from on board an Ariane 5 rocket, and Europeans continue to struggle under a heatwave.
In the US, at least 10 people were killed in a high school shooting. The star of US President Donald Trump was also vandalised on the Walk of Fame in Los Angeles.
In Pakistan, former cricketer Imran Khan claimed victory in a general election.
Meanwhile Ryanair employees went on strike in Brussels for better working conditions, while in Laos, a burst dam has killed dozens and left thousands of people without shelter.