Thai cave boys take part in Buddhist ordination ceremony
Comments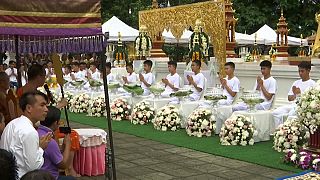 Eleven members of the Thai youth football team rescued from a flooded cave are taking their first steps to being ordained as novices in a Buddhist ceremony.
Their coach, who was trapped with them, is also receiving monk's orders.
The group will spend nine days living in a monastery, the same amount of time they were confined in Tham Luang Cave in Chang Rai before being descovered by rescuers.
This follows a tradition for males in Thailand who experience hardship.
The boys start the process by having their heads shaved, before attending a robe ceremony on Wednesday and heading to separate monasteries to meditate, pray and clean their temple.
Only one member of the team is not taking part in the ceremony as he is a Christian.
The group were trapped underground with rising flood waters for more than two weeks before a dramatic rescue saw all of them brought to safety.
The boys were all released from hospital last week and are said to be in good health after their ordeal.