Four airlines complain to European Commission about French strikes
Comments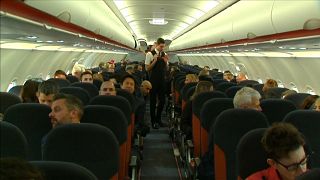 Four airlines have issued a complaint to the European Commission over the strikes in France.
Ryanair, Easyjet, IAG and Wizz Air argue the air traffic controller's stoppages restrict freedom of movement within the EU.
They believe France is breaking EU law by not enabling flights to fly over the country during strikes.
British Airways-owner IAG, which also owns the Iberia, Aer Lingus and Vueling carriers, say it was spending more on fuel to travel via alternative routes to bypass French airspace.
BA describes the strikes as more of a threat to European airlines this year than a rise in fuel prices.
A spokesman for the Commission says it will carefully analyze the complaint.