Tour de France steps up fight against motorised doping
Comments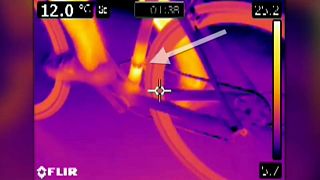 The Tour de France is stepping up its fight against mechanical doping in the peloton.
Each stage winner will have his bike thoroughly tested by newly developed X-ray machine.
Cycling's governing body wants to verify that there are no additional items that could provide energy to the wheel.
According to the UCI's Jean-Christophe Peraud: "It`s the same procedure like having an X-ray in a hospital, to see if we have broken a rib. Now we can see if there is something that should not be there."
The UCI, cycling's governing body is using a package of measures. This includes an thermal camera while the race is in full flow to detect unusual heat sources.
Along with a tablet device to scan for hidden motors or magnetic wheels at the start of each stage.
In case of strong suspicion, a bike will be completely disassembled
Since the start of the tour, organisers say more than 1,500 controls have taken place.