Poland's Andrzej Bargiel becomes the first to ski down from summit of K2
Comments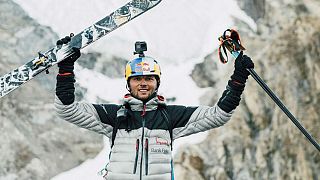 Copyright

Credit: Marek Ogień / Red Bull Content Pool

-
Andrzej Bargiel has skied his way into the record books by becoming the first man to descend one of the world's highest mountains.
The 30-year from Poland made his way down from the summit of K2 to its base camp on Sunday (July 22).
The 8,611-metre mountain is the second-highest on the planet and the most difficult one to climb.
He was able to link snowy sections throughout his entire descent.
"I'm very happy that I've managed to ski down the summit of K2 and get back to the base safely!" said Bargiel. "I started to climb K2 at 4am on Sunday. The weather was good".
"Some problems appeared when I reached the peak and started to ski down. It was very cloudy and I had to wait for it to clear up at Base IV because the next phase of my downhill was going to be very difficult and technical on an extremely steep wall.
"I feel huge happiness and, to be honest, it was my second attempt, so I'm glad that I won't be coming here again."