Pope calls on international community to help migrants
Comments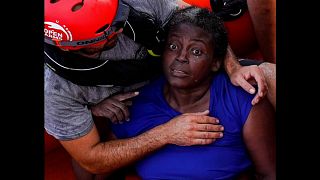 Pope Francis has offered prayers to the migrants who have lost their lives in the Mediterranean Sea and called on the international community to prevent more deaths.
The new Italian government is looking to limit the number of migrants it lets into the country and has shut its ports to humanitarian rescue ships in a crack down on illegal immigration from Northern Africa.
"I address a heartfelt appeal for the international community to act decisively and promptly to prevent such tragedies from being repeated and to guarantee security and respect for the rights and dignity of all." said the pontiff to the crowds in St Peter's Square on Sunday.
Spanish charity Proactiva Open Arms has filed a complaint, including one of involuntary manslaughter, against a cargo ship for failing to help migrants adrift on a destroyed dinghy in the Mediterranean.
Open Arms claimed the ship's crews saw the migrant dingy but failed to provide help.
Libya's coast guard disputes the account but did not explain how the three migrants came to be stranded on the remains of the dinghy.