Hundreds of migrants rescued off Spain
Comments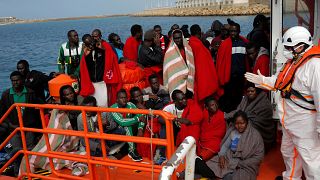 Spain's Maritime Rescue Service picked up more than 300 migrants in 15 boats on Sunday (July 22) in the Strait of Gibraltar and the Alboran Sea.
The asylum seekers are from sub-Subharan and North Africa and were trying to reach the Spanish coast.
About a third of those rescued were taken to the port of Tarifa.
The Spanish coast guard said close to 800 migrants were rescued at sea on Friday and Saturday.
Spain is quickly becoming the main entry point for asylum seekers trying to reach Europe from the North Africa.
Since the start of the year, some 18,000 migrants have arrived in Spain by sea. Nearly 800 were picked up by rescue boats on June 29 alone.
As Italy works to bar humanitarian ships from docking at its ports, aid organizations are asking European authorities for a coordinated response to the ongoing migrant crisis.
On Friday (July 20), Libya rejected an EU proposal to set up asylum processing centres in the country.
The route from Libya to Italy continues to be the most deadly, with one in six migrants setting off from Libya dying or going missing at sea.