New leader for Spain's People's Party
Comments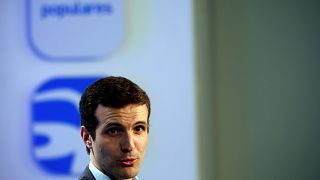 Spain's conservative People's Party has elected of former party spokesman Pablo Casado as its new leader.
The People's Party was cast into opposition in June after six years in government when its previous leader Mariano Rajoy was ousted in a no-confidence vote.
Taking to the stage, Casado paid hommage to his predecessor.
"Thank you president Rajoy. I will keep calling you 'president'," he said. "Because we owe you a lot, because of your four decades of public service to the Spanish people."
In his victory speech, the 37-year-old lawyer promised to defend the values of "life and the family:.
Casado will lead the opposition to Spain's new minority Socialist government ahead of regional elections next year.
And a general election that Pedro Sánchez, the prime minister, could call ahead of the due date of July 2020.