2018 Silk Way Rally gets underway
Comments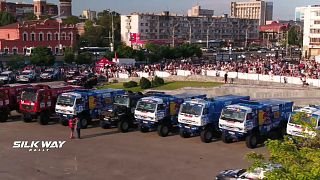 And they're off on the Silk Way Rally 2018! After a second day of scrutineering at the spectacular site of the State Theatre of Opera and Ballet in Astrakhan, the start ceremony has officially seen the 8th edition of the rally get under way from the mouth of the Volga Delta, on the shores of the Caspian Sea. 
Astrakhan plays host to an intense week of Cross Country action, on the way to Red Square in Moscow. 
The State Opera Theatre is rally HQ, where competitors from around the world have been preparing their teams and vehicles for 3,500kms of competition over the next week.
It is from here, at the gates of the Kalmykia Desert, on Saturday morning that the principle favourites in the car and truck categories will begin their merciless battle for the victor's laurels. Commonly considered one of the toughest tests in the world, this year will be no different.
Eight years after his second place in the wake of Carlos Sainz, his team mate at the time in the Volkswagen team, Nasser Al-Attiyah is back on the Silk Way Rally with barely concealed delight. Two times Dakar winner (2011 and 2015) and front runner on the last three rounds of the All-Terrain Rally World Cup in the company of his faithful co-driver, the Frenchman Mathieu Baumel, the Qatari driver and his Toyota Hilux Overdrive are firm favourites in the car class.
With no less than six trucks at the start, the blue armada of the Kamaz-Master Team are once again firm favourites in the truck class. 
Winners of six out of the seven first editions, the Kamaz trucks have dominated their 'local' race.