Family missing after boat capsizes on the Evros River
Comments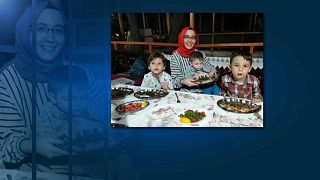 A man has appealed to the Greek authorities not to stop the mission to find his wife and three children after their boat capsized on the Evros River on the border with the Turkey.
Murat Akcabay, who is now in a Greek refugee camp, and his family were crossing the river used by migrants to try to get into Greece.
He sent this message to Euronews with his phone: "My name is Murat Akcabay. My wife is Hatice Akcabay.  Both of us are teachers. When we crossed the Evros River, our boat capsized on 18th July 2018 at 1am. My wife and my three children aged one, four and six years old are lost in the river. As a father, I beg the Greek people and the Greek authorities, please don' t stop the rescue and search operation."
Another five people, including three men, one woman and a child, were rescued by the Greek authorities from the river used by migrants to cross into Greece.
The boat was carrying Turkish civil servants and their families fleeing a government crackdown after the botched 2016 coup against President Erdogan.