'Natural selection at its finest': the devices that allow motorists to drive without a seat belt
Comments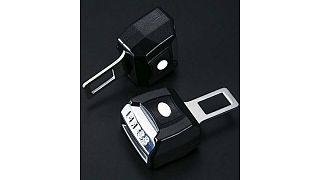 Controversial devices that make it easier for motorists to drive without safety belts can be bought online across Europe, a Euronews investigation has found.
The clips, available via third-party sellers on Amazon and eBay in several European countries, plug in like a normal seat belts but come without the safety strap.
They allow motorists to disable the warning alarms on modern cars that sound if the vehicle is moving and the driver is not strapped in.
There is no suggestion they are illegal and retailers point out they could be used to stop the alarm going off if heavy shopping bags on the passenger seat are mistaken by the car for a human.
But safety campaigners have said the sale of the devices is "entirely inappropriate".
They say they're unnecessarily putting the driver and other people in the car at more risk of dying if there is an accident.
Kevin Clinton, head of road safety at the UK-based Royal Society for the Prevention of Accidents (ROSPA), said: "It's surprising that anyone would want to use these devices because we know without a seatbelt you're far more likely to die in a road accident.
"We're very concerned that any retailer would offer these alarm stoppers for sale, it's entirely inappropriate and after you alerted us to them we've written to trading standards. We'll be following it up with a letter to the traders concerned.
"While we know that some people are determined not to wear their seat belt, offering these devices for sale only serves as encouragement."
"We're not sure that selling these devices is illegal, but it should be if their only purpose is to help people avoid wearing a seat belt which puts them and other people in the vehicle at serious risk."
A spokesman for Amazon declined to comment. Euronews also contacted eBay but the firm did not respond to our requests for comment.
We found the devices for sale in online stores aimed at English, French, German, Swiss, Austrian and Spanish consumers.
Most retailers offer just the clip but some — perhaps somewhat bizarrely — also come with a bottle opener.
It is difficult to establish how widespread the devices are and whether they have an impact on road deaths.
But a discussion thread on Reddit asking about the popularity of the clips in Europe provoked the following comments:
Poster from Sweden: "No, I didn't even know it was a thing. I'm disappointed in humanity and still it keeps going lower."

Poster from Russia: "Natural selection at its finest. People who don't wear seat belts routinely aid in cleaning up humanity's gene pool."

Poster from the UK: "And some poor police officer, paramedic and/or member of the public gets to be traumatised by witnessing the aftermath of their needlessly violent death."

Poster from the UK: "Why not just put a seatbelt on? Seems like an odd amount of effort to go to."

Poster from Austria: "Honestly, I'm glad that they installed these warning signals. Putting on the seat belt has become such a reflex for me now."

Poster from Germany: "Three teenagers died in my region doing something similar with old discarded seat belt buckles, so it does happen."

Poster from Slovenia: "This is possibly the most stupid thing I have ever heard of. No. Just no."

Poster from UK: "I actually came across a genuine use for these the other day - I got in the car, put my bag on the passenger seat and set off. It took me ages before I realised the binging noise was because the bag was so heavy it was tripping the sensor and the car thought I had a passenger not wearing a belt."

Poster from Norway: "Some of the stupid people at work just buckle their seat belts behind their backs or behind their seats, I don't really listen very tightly when these morons brag about their stupidity."

Poster from Italy: "When buckling up became compulsory decades ago, they used to sell T-shirts with a safety belt printed on them to fool the police in Naples."
Pavel Masterkov, 30, from Moscow, who initiated the discussion on Reddit told Euronews he'd heard the devices were used in Russia, Ukraine, Romania and Greece.
"Taxi drivers in Moscow use seat belts, but these devices were installed in a car I rented in a provincial capital," he said.
"I think people use them because they consider the probability of an accident to be low enough, especially if they drive along country roads.
"A man I know rode with his seatbelt buckled behind his seat because he speeded regularly and at 140 km/h the belt wouldn't save him."
Your view | Do you think it's inappropriate to sell these devices? Are they widely used in your part of Europe? Contact me via chris.harris@euronews.com