President Trump holds President Putin personally responsible for meddling in 2016 election
Comments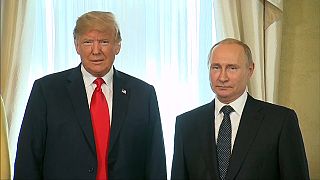 Donald Trump is still dealing with the hangover from remarks he made about Russian meddling in the 2016 presidential election.
His latest backtrack during an interview with CBS saw the leader say that he holds Russian President Vladimir Putin, personally responsible for it.
The interview came after a second day of efforts by the White House to quell nationwide anger - even from his own supporters - over his failure to publicly hold Putin to account at a joint news conference in Helsinki.
Jeff Glor, the Anchor of the "CBS Evening News" says, "But you haven't condemned Putin specifically. Do you hold him personally responsible?"
U.S. President Donald Trump replies, "Well I would because he is in charge of the country, just like I consider myself responsible for things that happen in this country. So, certainly as a leader of a country you would have to hold him responsible, yes. I let him know that we can't have this. We're not going to have it, and that's the way it is going to be."
Responding to the anger on Twitter, Trump says he was being 'got at' for his relationship with Putin - a phenomenon he described as Trump Derangement Syndrome.
The uproar began when Trump directly contradicted his own intelligence agencies by saying he couldn't understand why Russia would meddle in US elections.
A day later he said he had misspoken and that he did in fact believe Russia had interfered with the 2016 vote, but refused to publicly condemn Putin for it.