Watch: Diplomatic Fallout: Trump criticised after backing Russia over us intelligence agencies
Comments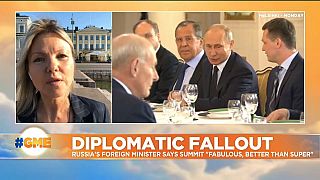 Reaction has been scathing in both Europe and Washington after a highly unusual press conference at the US-Russia summit in Helsinki.
In it, US President Donald Trump urged that - quote - "diplomacy and engagement are preferable to conflict and hostility".
But then made the highly undiplomatic move of dismissing the findings of his own intelligence agencies - choosing instead to publically accept his counterpart Vladimir Putin's denials of Russian involvement in the 2016 US presidential campaign.
Our correspondent Galina Polonskaya has more on the Russian reaction.