How important is the Trump-Putin Helsinki summit? | Euronews answers
Comments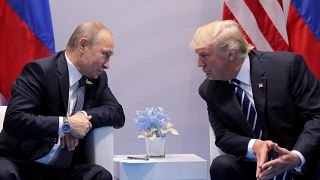 -
The Finnish capital Helsinki has been named as the venue for the forthcoming US-Russian bilateral summit between Donald Trump and Vladimir Putin on July 16.
The White House and the Kremlin made the announcement following a visit to Moscow by US national security adviser John Bolton.
The first formal meeting between the two presidents will come just days after a NATO summit.
Why is Helsinki the venue?
There are echoes of the past in the choice of venue for the Trump-Putin meeting. Finland's capital has played a historic role in relations between the United States and Russia (or the ex-Soviet Union).
In 1975 it staged a summit between US President Gerald Ford and Soviet leader Leonid Brezhnev, with many other countries also present. The resulting Helsinki Accords came to represent "détente" between communist East and capitalist West at the height of the Cold War.
Fast-forward 15 years, and with the Iron Curtain now dismantled, George H.W. Bush met Mikhail Gorbachev in Helsinki in 1990 — shortly before the collapse of the Soviet Union.
Then, in the new so-called "end of history" era, the city also staged a meeting between Bill Clinton and Boris Yeltsin in 1997.
In one sense, Helsinki represents neutral territory for the Putin-Trump meeting as Finland is not part of NATO. The choice of venue is also practical: Donald Trump will already be in Europe following the NATO summit and a visit to Britain, while Vladimir Putin will be in Moscow the previous day for the football World Cup final.
What is the state of US-Russian relations?
The summit comes with relations between Russia and the West at their lowest levels since the Cold War. Moscow has been blamed for its involvement in Syria, Ukraine and the annexation of Crimea, the downing of a passenger jet over Ukraine, and internet disruption.
As for Moscow and Washington, ties have deteriorated over Syria, while both sides expelled each other's diplomats over the poisoning of former Russian spy Sergei Skripal in England.
In April the US accused Russia of "malign activity around the globe", which included attempts to "subvert western democracies".
However, Putin and Trump have made positive comments about each other and the US president phoned his Russian counterpart in March to congratulate him on his re-election. Earlier this month he called for Russia to be readmitted to the G7.
The Trump administration has long talked of wanting to improve relations between Washington and Moscow.
Donald Trump has persistently cast doubt over US intelligence accusations of Russian meddling in the 2016 election. Investigations continue into whether Russia colluded with his campaign.
Will Donald Trump upstage NATO?
Trump's meeting with Putin will take place just four days after the end of the NATO summit on July 11-12.
Some observers fear a repeat of the recent G7 summit in Canada, which saw a belligerent US president at odds with other western leaders – in contrast to the warm words he then had for North Korea's dictator at their meeting in Singapore.
Donald Trump has long accused NATO members of failing to meet their required share of the western alliance's defence funds.
NATO Secretary General Jens Stoltenberg has said the meeting of the Russian-US leaders is in line with the alliance's own policies which advocate dialogue with Moscow.
However, diplomats have been reported to be uneasy over the event – and Trump's unpredictability.
What have people said about the summit?
"The president is pursuing this meeting in the interest of national security and to determine whether Russia is willing to make progress in our relationship" — White House spokeswoman Lindsay Walters.
"We need each other, not because we want to love each other. We don't want and we don't need to be loved. We simply need to hold normal, pragmatic relations with a major country upon which… a lot in the world depends" — Vassily Nebenzia, Russian ambassador to the United Nations.
"Even small steps in reducing tensions would be in everybody's interest" — Finland's President Sauli Niinistö.
"The question is, are we going to let Putin walk all over us? Had eight years of that, kind of tired of it" — US Republican Senator Lindsey Graham.
"What people are worried about is the president (Trump) going into this meeting (with Putin) with a weaker hand, and if he is seen as blowing up alliances" — Daniel Fried, former US Assistant Secretary of State for European Affairs.